Shopping Cart
Your Cart is Empty
There was an error with PayPal
Click here to try again
Thank you for your business!
You should be receiving an order confirmation from Paypal shortly.
Exit Shopping Cart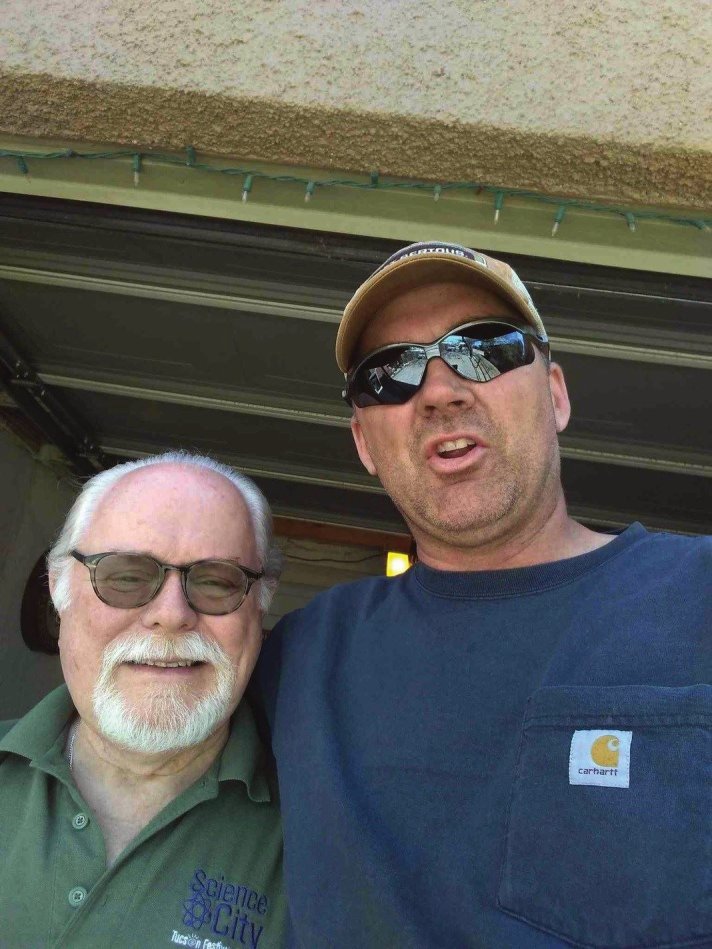 For so many years of working and living here in Tucson me and Amanda have met some of the most memorable people. Tucson is a community full of Loving people who all appreciate the Old Pueblo and all it has to offer. On behalf of all the people I know, we would like to thank Ron Barber for his service to our Community. After loosing Gabrielle Giffords Ron was a light of hope and his most admirable quality is that he lives here with us and is one of us. For years I have ran into him here or there and have sang his praises for being a grass roots candidate and heartfelt representative of Tucson. We all can appreciate someone who steps up in a time of need and sacrifices his time and future to represent us. THANK YOU RON BARBER. After working for one of his children (another local Tucsonian), I got a chance to work for Ron and have continued that relationship. Sadly Ron is not going to run again but I encourage all of us to thank him and Nancy for putting Tucson first and showing the rest of the world that we are a community united. So the next time you see him changing his tires or changing his oil, thank him and show support for on of the many treasures we have here in Tucson.
Pine Bark beetle ravishes Tucson Arizona. What can you do?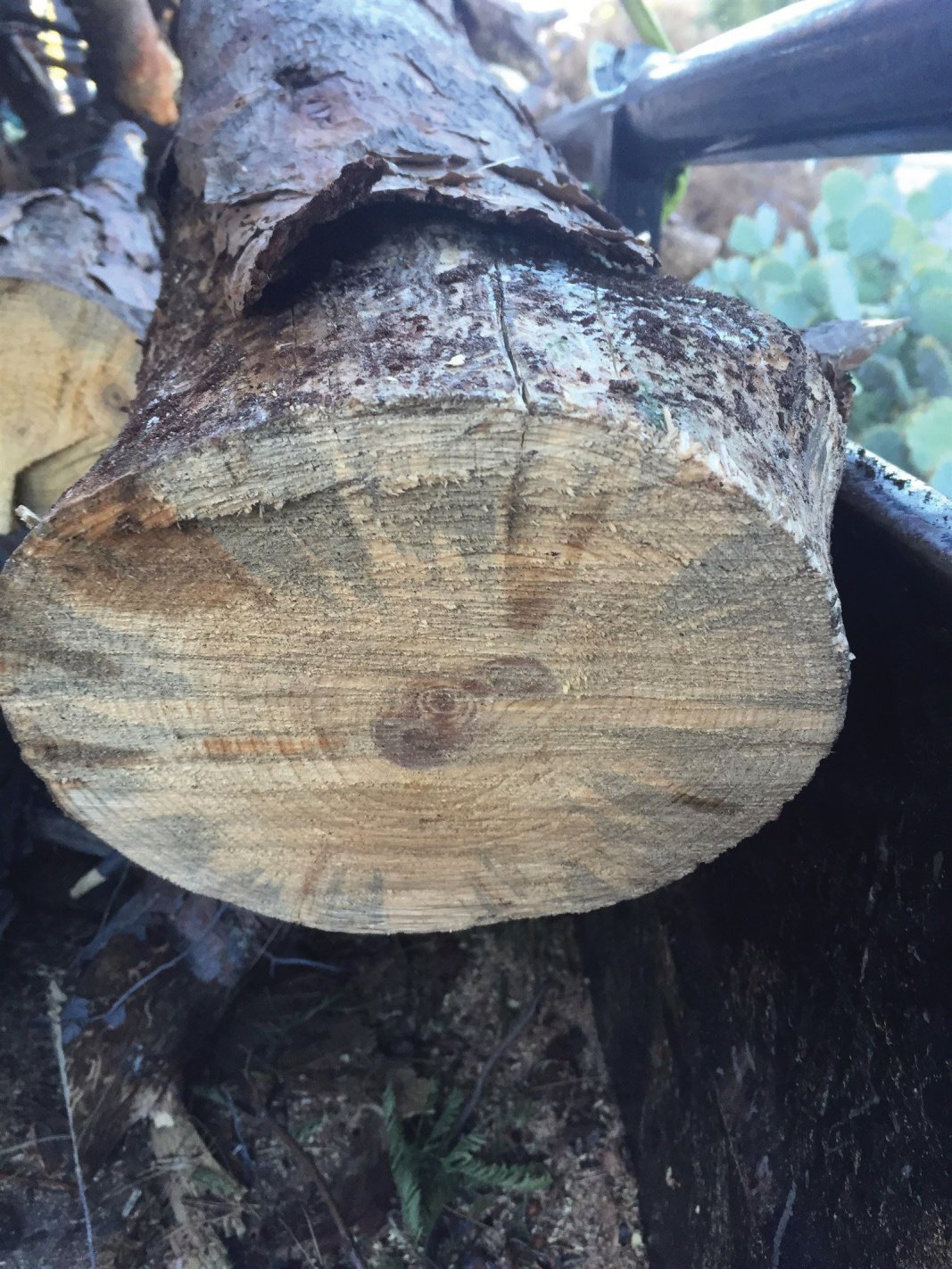 Years ago while cutting through a dead pine I cut through a cluster of live larvae. I took a picture which you can see on one of my other blogs. At that time more "educated arborist's" with the U of A scoffed and said "there is no pine beetles in Tucson, it's another illness killing the pines" I smiled, insulted and went on about my business. 
Many years later now everyone is scrambling trying to save their tree. Dead pines everywhere and the beetle to blame. In 3 months tree's go from live to dead and we are cutting down a record rate of dead pines almost akin to the other tree damage seen from the freeze in 2010/2011. I estimate the economic impact will be greater than the freeze of 2010/2011.
What can you do to save your Pine tree?
First and foremost Water. The beetle is more likely to go to dehydrated Pine tree's as the healthy wet ones cause a problem with sap filling the holes. This is not a guarantee, but your odds are much better. If you ask, "how do I water it" please read some of our other blogs on watering and tree health. I have witnessed watering the drip line and using some of the other local Arborist's advice will leave your tree dead. After establishing a watering schedule that is suitable you may want to find your way to the hardware store and search for a Bayer product in a blue jug. Use the liquid 2 in 1 insecticide and feed. Using the granules leaves insecticide above ground that can be harmful to pets/animals. Follow the directions and plan on doing it 2x over the first month then yearly after that. It is a practice that dedicated Mesquite Tree owners do continually to keep borer's out of their mesquites. 
If you feel that the maintenance is more than you have time for we would be happy to help you with this service and get your tree's in good health. See the many ways that our Tucson Tree Service contributes in every way possible by reading more of our blogs. Thanks for tuning in!
We are proud to be named, for the 4th year in a row, the Super Service Award Winner for Angies List. Since me and Amanda started Tree Removal Service Tucson it has been a non stop challenge to provide the quality and service that we know Tucson deserves. 
Receiving this Award is something we do not take lightly and want to thank all of the Members Who have voted for us over the years. 
It is our goal to provide the best Tree Service in Tucson and continually try to advance our craft and provide more state of the art service to Tucsonians. From all of us here at Tree Removal Service Tucson we want to thank everyone who has had a part of us becoming who we are today. We are so proud to be a fixed part of Tucson that people can count on.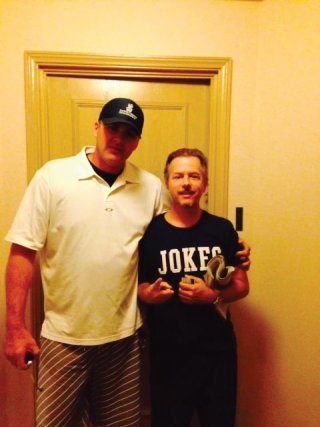 Tree Service in Tucson gives Recognition to Actor for Charitable Donations.
We wanted to say thanks to David Spade for his Donation to the Phoenix Police department and other Arizona Charities. 
Here at Tree Removal Service Tucson we know the value of giving. After doing our donation, Removing the Oleanders at the Zoo, we received so much support from local Tucsonian's and have for years since then. It has helped us understand the need for all of us to give thanks to those able to help others.
Often most of our good deeds go unnoticed, for all the people who have given to our Community and it has gone unseen, we want to say thank you. Tucson and Arizona is in need of all of us uniting together to try and make our neighborhoods better places to live for generations to come. 
Tree Service in Tucson, AZ is often exhausting. Over the years we have done Tree Trimming and Tree Removal in Tucson for thousands of people. I have had a chance to meet so many Tucsonian's and feel privileged to be someone that they call with trust. Even though we can not donate charitably al the time, we all can donate by doing our jobs with our best effort. This is what we do here at Tree Removal Service Tucson. Whether Tree Trimming or Serving others in your line of work, I hope we all can see the need to give our very best to Tucson, Arizona.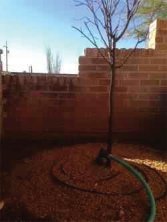 How to plant a Tree in Tucson?
Tree Planting in Tucson has a bad rap for a good reason. In my Training as an Arborist I learned the proper way to plant a tree and rarely see it in practice. Even Nurseries often provide inferior advice and leave you with a tree that never takes, or blows over in a Monsoon storm. Full neighborhoods are developed with improper tree's planted and planted in an improper location. Why? Well for 2 reasons.
1. Textbook knowledge, when not applied with on the job real life experience in our environment, has little place. some simple examples would be the teaching to water the drip line of a tree. In Tucson with hard soil and dry climate if you water the drip line you will not get water to the most important part of the tree... the root ball. When the textbook teaches the drip line watering technique, it is assumed that the whole center area of the circumference is also getting watered, not so in Tucson. I have followed dedicated watering systems put in by other Landscapers only to have the owner tell me what poor results they have had. Within 3 months our Proven Technique can make the changes needed to feed the tree properly according to our environment. This is one example of textbook knowledge not being very useful with out real life common sense added to the equation. I have many other examples but will not go in depth on this article.
2. Developments are built and planted with the final decisions being made by general contractors. The price and bottom line drives the cost and the Landscaper is under the pressure to make the General happy and overlook the proper planting techniques if the Landscaper even knows them. Tucson is a small town and often the lack of competition allows inferior companies to stay in business, often Unlicensed ones who say they are licensed speaking of a 10$ business license not a ROC License by the State. This is also a long article that I may write at a later time.
Lets get to the task at hand, Tree Planting in Tucson, Arizona.
A. 90% of a Tree's root system are in the top 12 inches of soil. So when you go to the nursery they recommend digging a hole 2x as deep as the pot. I disagree, A good foot or so below will be fine. Tucson is not full of Tap rooting tree's. Your next step is width, the recommend 2x the size of the pot, I disagree. Following their directions will give you a hole to plop your tree in, due to our hard soil you will have a tree that is root bound, the roots will run into your vertical walls and change direction going for the path of least resistance often changing direction and heading the opposite direction than the one they should be to give the tree structure, and believe it or not, this type of planting leads to surface roots and tipped tree's in monsoons. According to ISA Reg's you are supposed to trench a hole with the vertical walls being almost a 45% angle to the bottom, This provides and environment that the roots will keep heading in the right direction ad gradually penetrate the soil, remember 90% of roots are in in the top 12 inches.
B. Next step is soil mix. You want to be 1/3 to 1/2 Organic mix and the remainder native soil. With this said watch the type of tree, some need drained rocky soil and others soil that retain water, so use the proper organic mix. Generally I recommend fertilizing with liquid fertilizers the bottom of the hole to make the hard edges nutrient rich. When planting you want you root collar to be level with the soil grade before excavation. 
C. Once your tree is planted you must water, water, water! The amount varies but do not listen to just anyone about how much. I have heard advice given by Certified Arborist in Tucson that borders on Tree Suicide. This is and area that I would involved and accredited Licensed Contractor and Arborist. I recommend our feeding plan which involver a dirt well, Liquid Fertilizers, Mulch (a fresh ground mix from our company, big chip stuff from stores and other Arborist's have little to no value, Our company has healed 1,000's of tree's and have a proven system and trade secret to producing Nitrogen rich formula) and a Proven Watering Plan.
D. Most important is selection. What Kind of Tree do you want to plant? This is a decision that is needing much thought. I am not perfect but I can say that our company has compiled 10's of Thousands of problem Tree Removals to allow us to help with a proper planting selection. A lot of this must be considered. What do you desire? Shade, Privacy, Color, Long term, Short Term, Water needs or Drought resistant, aggressive roots, cold tolerant etc. You can see why a consoling from an Arborist with experience and massive amounts of data is needed. I am sure that the
Local Tucson Arborist
at Tree Removal Service Tucson can help you with your
Tree Planting
Needs.
I have watched tree's in 2 months go from a 15 gallon tree that they say will drop its fruit but go on to produce the Largest fruit with our plan, I have also seen massive amounts of growth and countless happy Tucsonian's. I hope that the advice I have given you will help in your Tree Planting in Tucson, Arizona. As always we are here to help.
3 Time Angie's List Super Service Award winner!
For the 3rd year in a row, Tree Removal Service Tucson has won the Super Service Award from Angie's List. We want to thank everyone that has made this possible including the wonderful AL Members that we have met and developed lifelong relationships with. Without you none of this would have been possible. It has been our passion to offer the best that we are capable of for the Tucson community, and winning this award means more than you would ever know. 
Tucson is a small market with the hometown feel and being here since 85 and my wife a native, we feel an obligation to our community to offer the best and not fall in line with the Tucson norm. Again, thank you from the bottom of our heart! We hope to continue as a leading
Tree Service in Tucson
.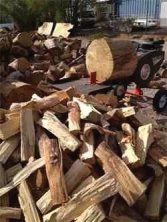 Can you burn Eucalyptus Wood in your Fireplace? 
Well the short answer is YES!
Eucalyptus happens to be one of the best burning firewoods that Tucson, Arizona has to offer. With no Pitch or sap to worry about you can burn the wood like an oak or mesquite wood for a lot less money. Often I have told people that if I had to heat my home with firewood I would undoubtedly burn Eucalyptus as it is the best priced firewood in combination with stored energy.
You may ask, "what about all the products made from Eucalyptus oils?" Well very simply put the oils are extracted from the leaves of eucalyptus, not the logs. So if you burned Eucalyptus leaves in Tucson, Arizona you would have some pitch and aroma. So don't buy a cord of Eucalyptus leaves!  :)
To bring this all to a close, yes you Can you burn Eucalyptus Wood in your Fireplace in Tucson. It is a resource that we have in abundance since our ancestors in the 50's and 60's planted these giants right next to homes all through Tucson. Using the hardwood is a great way to prevent the clearing of private land in Northern Arizona, New Mexico and Mexico to supply firewood vendors with those desired woods like Mesquite and Juniper. Support your local recycling
Firewood Contractor in Tucson
who ethically harvest's the natural resource that our urban forest provides.
Recently I ate dinner on the last night of a Tucson favorite. Anthony's in the Catalina's. For years Tucsonian's have enjoyed Anthony Martino and His fine dining, it is a loss that Tucson will take a long time to grieve. Thank you so Much Mr. Martino for all the years of Service here in Tucson, Arizona.
That same weekend we ran into Lute Olson for the second time over the last couple of weeks and expressed to him our appreciation for all the great memories over the years. Tucson, Arizona has very few National things to root for and our University of Arizona Basketball Team and Lute Olson have been the joy for many of us for over 30 years. Thank you Lute for all the great years of Service to our Town, the Fans and Kids that went through your organization. As a fellow Olson I feel a need to give more of myself doing Tree Service in Tucson. Whether doing Tree Trimming or Tree Removal in Tucson, Arizona we always want to give our best. Every Tucsonian has to try their hardest to make Tucson a better place for all of us and Lute Olson and Anthony Martino have done that for Tucson, Arizona.
On behalf of Tucson, we here at Tree Removal Service Tucson and our Staff want to extend Discounted Tree Services for Anthony Martino and Lute Olson in Tucson, Arizona. A heartfelt thank you from the Olson family and this little town we call home.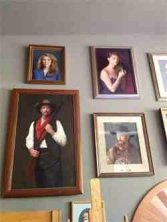 Amazing Portrait Artist in Tucson! In my travels I get honored to meet 10's of Thousands of Tucsonians. Often I amazed at the depth of talent possessed in our city. From high end Bicycle Fabricators to Voice over artist who have done memorable announcements for famous sporting events. Recently I met an Artist that has talent beyond any I have seen. I have been to art shows and viewings and even have a friend who commissioned Wall size artwork that came with a personal presentation showing and the work cost more than a small house. Despite my experiences I was floored at the talent of the artist I met. My picture does not show how lifelike the artwork is when you see it in person. I find it a shame for such a gem to be hidden in the rough. Everyone should have the opportunity to commission portraits of family members to be passed down for generations. Although not cheap, the price is very low considering the value that such a portrait would bring to your family. 
I write this article to do my part in letting people know about this Amazing Portrait Artist in Tucson. If you desire to contact the Artist please email me and I will forward your contact information.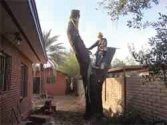 Why is my Pine Tree is Dying in Tucson, Arizona?




So you would hope the company that removes more dead pine tree's in Tucson, Arizona than anyone would have some good tips on why your Pine Tree is Dying. I will attempt to help you on this issue and hope that we can help you save your pine tree.




Years ago when I was a little younger in my knowledge, and experience.(and age) I removed a dead pine tree for a very nice lady. I had already cut near 100 dead pine tree's at that time and knew a little. i explained that beetles most likely attacked the tree, and when the crane brought the tree down I showed her rings of holes in branches that indicated Larvae exiting the tree. She told me at that time that the U of A arborist previously had told her that there were no pine beetles in Tucson and that it was most assuredly RUSH an illness killing the tree and she needed to water it aggressively and it would come back. Being young in experience I did not want to pick a fight with an arborist with such a title, so i went on with my career. Since then I have had run in's with poorly taught students claiming the knowledge of a U of A Horticulturist. Education at times needs to be supported with those of us in the real field seeing the problems. With that said, I have many blogs that Journal our company's journey and encourage reading them.




The bottom line is this when it comes to your dying pine tree in Tucson, AZ. We are in a drought. Pine tree's need massive amounts of water and are one of the few tree's that if the outer ends of the roots stop finding moisture, the whole root can die.




If you are a huge follower of ours you know that the base problem with all tree's under attack from Micro organism's and going into decline is Hydration! Pests such as Borers and beetles will pass healthy trees fully hydrated and go to struggling trees. So overall our problem can be solved by properly watering our trees. 




How do we do this? Well water in the ground any way is ok. A friend in Winterhaven who we recently mulched a tree for and has a struggling Pine stood with me as we looked at a pine a few feet away with grass planted all around it that was really healthy. Why? Because the watering of the grass daily helped the pine. It was once said that Conifer's like there toes in the water, not there feet. So don't drown your tree. Allow evaporation to take place a couple of days in between watering.




How can you save your pine tree? Well I will give you some sound advice. I am not a U of A Arborist but I will not steer you wrong, what I tell you is what I do and recommend often out of love for tree's.




1. Do not do Tree Trimming of dead. read our other blogs on tree compartmentalizing to understand.

2. Build a well. Simply build up a ridge of dirt approx 5 feet outside the diameter of the trunk in a circle. Do not use dirt close to the tree as changing elevation of grade can hurt the tree.

3. Mulch tree inside the well. This will release food into the soil and trap moisture along with aerating the soil as the organic material breaks down.

4. Fertilize. Water in the fertilizer well, but remember 90% of a tree's roots our in the top 12 inches of soil. I have seen the most massive tree's go over in monsoons and the depth of the root ball under the tree is often 3 feet at most.

5. Water your tree all spring and fall. DO NOT WATER IN MONSOONS AS TREE MAY TIP OVER. Watering plan is simple with hose. Trickle well overnight (8hrs) and allow a soaking of the well. Allow to dry in between. Watering overnight 2X a week should do. DO NOT USE DRIP IRRIGATION. Tree's spring growth is derived from fall nutrition so do not get discouraged with little results in first year.

Being one of Tucson's top Arborist and having a successful Tree Service company I have heard the argument of weakening due to watering this area. The alternative is Tree Removal. Back Surgery or Cut your back out? Tree Service in Tucson is different than what is taught in the textbooks. Our rocky soil does not let even the most experienced Tree Service Arborist can get fertilizer and activators around rocks to the small fibrous roots of tree's in Tucson.




Recently I followed another Certified Arborist who did his Tree Service plan of mulch and feed. The result was the lady calling me a year later to give and estimate for Tree Removal. Tree Trimming can not be performed on a sick tree, and Textbook Tree Service feeding is for different area's. Very simply you can not do a soil sample on a rock. :)




I hope this helps. We at TRST are Environmentally conscious and recycle everything as firewood in the Tucson market or allow Fairfax to chip and compost all green debris. This blog was written in good faith as I so a massive problem on the horizon as equal to the freeze we had. If this drought continues 10's of thousands of pines will die in Tucson. Lets all do our part to save this important part of our environment! As always we are here to help with any

Tree Service

you may need.

0

/