Shopping Cart
Your Cart is Empty
There was an error with PayPal
Click here to try again
Thank you for your business!
You should be receiving an order confirmation from Paypal shortly.
Exit Shopping Cart
Recently I ate dinner on the last night of a Tucson favorite. Anthony's in the Catalina's. For years Tucsonian's have enjoyed Anthony Martino and His fine dining, it is a loss that Tucson will take a long time to grieve. Thank you so Much Mr. Martino for all the years of Service here in Tucson, Arizona.
That same weekend we ran into Lute Olson for the second time over the last couple of weeks and expressed to him our appreciation for all the great memories over the years. Tucson, Arizona has very few National things to root for and our University of Arizona Basketball Team and Lute Olson have been the joy for many of us for over 30 years. Thank you Lute for all the great years of Service to our Town, the Fans and Kids that went through your organization. As a fellow Olson I feel a need to give more of myself doing Tree Service in Tucson. Whether doing Tree Trimming or Tree Removal in Tucson, Arizona we always want to give our best. Every Tucsonian has to try their hardest to make Tucson a better place for all of us and Lute Olson and Anthony Martino have done that for Tucson, Arizona.
On behalf of Tucson, we here at Tree Removal Service Tucson and our Staff want to extend Discounted Tree Services for Anthony Martino and Lute Olson in Tucson, Arizona. A heartfelt thank you from the Olson family and this little town we call home.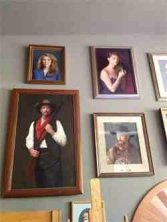 Amazing Portrait Artist in Tucson! In my travels I get honored to meet 10's of Thousands of Tucsonians. Often I amazed at the depth of talent possessed in our city. From high end Bicycle Fabricators to Voice over artist who have done memorable announcements for famous sporting events. Recently I met an Artist that has talent beyond any I have seen. I have been to art shows and viewings and even have a friend who commissioned Wall size artwork that came with a personal presentation showing and the work cost more than a small house. Despite my experiences I was floored at the talent of the artist I met. My picture does not show how lifelike the artwork is when you see it in person. I find it a shame for such a gem to be hidden in the rough. Everyone should have the opportunity to commission portraits of family members to be passed down for generations. Although not cheap, the price is very low considering the value that such a portrait would bring to your family. 
I write this article to do my part in letting people know about this Amazing Portrait Artist in Tucson. If you desire to contact the Artist please email me and I will forward your contact information.
Wow! Tree Removal Service Tucson is the Winner of the 2012 Angie's List Super Service Award! Thank you all so much! From the bottom of my families heart I want to thank all of our friends and loyal customers who have went out their way to write over 24 straight A reviews and other positive stuff around the web and on paper sent to our office. It absolutely makes me proud to be a Tucsonian and part of this community.
In a world that seems to be loosing it's love of life, Friend's, God and Family, we are blessed to be surrounded by great people and meet more of them every day. Tree Removal Service Tucson has become something greater than a tree service company in Tucson. It has become a standard of service, although not perfect, we strive and teach our guy's to treat everyone like family. Also the concept of not overcharging because we can has allowed people to trust our character and not search for a better price.
Thank you so much from the bottom of my heart. Our company has many other tree cutters trying to ride our coat tails by saying they are Tree Removal Service Tucson, saying that they have a Chris working for them, and then at times saying that we are not licensed and saying other bad things about us. Do not be fooled and we know that the truth will come out in the wash and we hope that nobody is hurt by them with poor workmanship in the progress. Our hope is that every other tree company would take on the character and motto that our company has become known for. WE ARE NOT PERFECT, but simply by trying in every phase of business try to treat you like family, whether it be price, service or just a simple conversation about what we think is in your best interest, (sometimes meaning that we make no money) we have created a community based
Tree Trimming
business that truly cares about Tucson, Arizona and the people who live here.
Tucson is a great small town and as we grow we do not need to become rude like the bigger cities are. Treating others with respect because in time we will all run into each other again. Lets all take care of each other, hope the best for each other and be an example to the world of how different people with different backgrounds can live in harmony. It may sound like a dream, but if you met the Thousands of Tucsonian's every year that I do while out doing estimates for Tree Trimming and Tree Removal, and saw how nice we all are despite political, religious and ethnic differences, you would appreciate the great place that Tucson is and how much better we could be. Our Tree Service strives to be a positive part of this.
As a member of Tree Removal Service Tucson I will continue to try to do our part in being the best Tree Service in Tucson and a positive influence in our community. Thank you for making us the Winner of the 2012 Angie's List Super Service Award! and we hope to see you soon.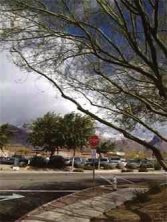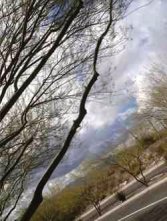 So what is lions tailing? It is an unrecognized pruning practice by the ISA and ANSI Pruning Standards. It is widely done in Tucson by uneducated Arborist and is as dangerous as topping to the health of the tree. 
Basically as shown in the picture, it is the removal of all lateral branches on a parent branch leaving only a cluster of leaves or shoots at the end of the parent branch. The end result is a dead branch. Photosynthesis and moisture drawn from soil to feed a branch is basically done by evaporation from the holes on a leaf and the process creates suction and a demand for water on the other end. (root) If you lion's tale a branch you are putting a lot of stress on a few leaves to draw the water all the way down that long branch to complete the process. It becomes impossible and the tree will kill of the branch. The lateral branches are stagers that work in unison with the parent branch to draw moisture to that point making it easier to pull the moisture the rest of the way.
If we check back on this tree in a year the shown branch will be dead and the tree will have waisted vital nutrition and energy trying to feed the damaged lower branch.
Read our other blog on tree topping to help understand and we have multiple blogs on tree morphosis that will help you understand the needs of a tree.
Arizona lack's licensing for Tree Maintenance and even for Landscapers (who are not Arborists) there is no trade test requiring one to retain knowledge of tree's and proper care. It is a missing area in the Statutes of Arizona and overlooked the the Registrar of Contractors. We hope to see the day that the problem is corrected and until then please be sure to hie an educated Arborist providing
Tree Service for Tucson
. As always we are here to help and hope that this article "Lions Tailing done by uneducated Arborist in Tucson, Arizona." was a helpful resource to you.
Thinking back (on a family members experience) I remember him over trimming a pine tree. I wasn't around for the error made but heard about the aftermath and how a year later the tree died and needed removal by a (competing Tree Service). This family member has over 15 years experience having his own tree Service Company, yet he never grew or advanced his craft to understand Tree anatomy, morphology or physiology. 
Often I will have a customer ask to really trim their tree aggressively. We try to convince them that it is putting their tree at risk for micro organism's (see our other blogs), but at times the customer is ready to remove the tree already and trimming it aggressively is the last resort before removal. In these cases topping or over pruning may be acceptable to avoid a removal.
So that gets me to my point, has your tree been over trimmed, over pruned or dying in Tucson? How do you know? Here are a couple of example pictures below.
Healthy Eucalyptus in Tucson.
This Tree has been virtually untouched and has a nice full crown. It could use some cleaning to remove dead and dying.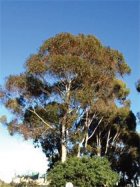 Fully Trimmed Eucalyptus in Tucson. 
This tree has been cleaned and remains healthy.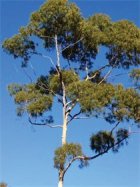 This tree is dying and shows little hope after having been over pruned.
Another view of dying Eucalyptus in Tucson.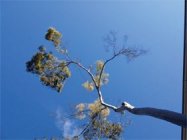 Dead or dying Eucalyptus in Tucson.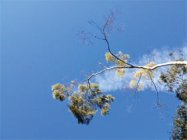 The lowest 2 pictures appear that I have only shown you a branch of the tree, but not true. I have shown you the whole tree. It has been trimmed to a single leader. All of the lower minor branches have been trimmed off the parent branch. This is called Lion's Tailing and is pretty self explanatory, trimming branches to look like lions tails. Often those lower lateral branches coming off the parent branch are needed to help with photosynthesis. 
Vital photosynthesis is simple. The leaf has holes that transpire or allow moisture to come out. The sun and evaporates the moisture and creates a suction from the xylem cells transferring moisture to the leaf, the process transfers down the tree to the roots absorbing new moisture. 

Understanding photosynthesis, just a little, we can obviously deduct that reducing the foliage and lateral branches to aggressively would prevent a tree from performing its most vital function. This would show up as your tree being over trimmed, over pruned and dying in Tucson.

No one is perfect. It seems in our day and age people often expect it but I have found we are all on this journey together and growing. Maturity and knowledge come with time, and often mistakes. My experience has taught me that everyone has a weak area. If you analyze tree service companies some specialize in certain area's. That family member of mine who has fed his family for over 15 years cutting tree's specializes in Palm Tree Trimming. So it makes sense that he would make a mistake in other area. See our blog on hiring a tree company in Tucson (Scare Tactics) to help you as tree care is so vast and since they are living organism's it is hard to master every area. 

What do you do? Well if your tree has been over pruned it may be too late. The microorganism battle is one that can be swayed in favor of the microorganism's by and over pruning. With that said here are a couple of things you can do. 

Water your tree. Study it and learn its needs. Do not over water in winter as most tree's shut down during this time.

Fertilize your  tree. Study its needs and add nitrogen, phosphorus, potassium and sulfur as needed. Check for organic material in your soil and consider mulching (leave mulch away from your trunk flare) (if grass is present  consider the fact that most nutrients will be absorbed by the grass and that 90+ % off a tree's root system can be in the top 12 inches of soil).

Do not prune again when you see part of it die. A tree forms a layer in between the dead and live wood. If you cut again you may risk cutting into live wood and putting the tree into further decline.

I hope all of this was helpful and as always we are here to help if we can.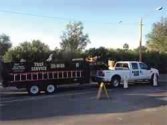 Tree Removal Service Tucson is a leader in Tucson Tree Services and showed that by donating over 5,000.00$ in its Tree Removal Services to help with the removals of the Oleanders at Reid Park Zoo. After helping with 2 phases of the overall planned 3 phases, Tree Removal Service Tucson will discontinue it's relationship TLC Tree Services in Tucson. We appreciate the Zoo and it's positive impact in our community and we hope that our contribution helped. For years we have been Tucson's leader in
Tree Removal
and wanted to show how we care by helping with this charity event.
For years we have been striving to be the best Tree Service in Tucson. Often that comes at a price. What started as Expert Tree Removal has advanced into some of the best Tree Trimming and Tree Care that you can get by a trained Arborist. We hope that our heart to charity stays the same as we continue to develop our Tree Service and learn better the arts of Tree Trimming and Tree Removal. See you on the field! :)
Tree Removal Service Tucson has come together to help with TLC Tree Care Tucson to offer charitable services to the Reid Park Zoo helping with the Removal of Oleanders.
The plants have wreaked havoc on the Reid Park Zoo and we feel it our responsibility, as a community, to help in any way we are able. Following our tradition of customer service and putting Tucson first, we are happy to contribute a little of our time in this matter, as the Reid Park Zoo has contributed so much to our community.
Our Staff will be working at the Zoo on Friday (6am) September 9th, and we will work till mid day trying not to disturb the Zoo's busy hours. Our hope for the day is to make some progress, the overall job is very vast and will have to be done in phases over time, of which we will only help in part.
The Reid Park Zoo can use contributions to help with the removals. Check the Channel 4 news article at 
Thank You.
As you know we are all about the lowest price and giving free tips. We need your help now!
A simple like on our facebook page would help a ton.
Watch these pics of our tree removal service experts in Tucson!
Tucson, Arizona has a top Tree Service.

Tree Service in Tucson, Arizona means Tree Removal Service Tucson.
Tree Removal in Tucson, Arizona

Tucson, Arizona leads the world in Tree Removal.
Tree Removal Service in Tucson, Arizona.

We are prepared for expert Tree Removal in Tucson, Arizona.
Tree Removal in Tucson Arizona.

Tree Service in Tucson, Arizona is done best with a Tree Arborist on Staff.
Tucson, Arizona's top Tree Service company.

Tree Removal completed by expert Tree Service in Tucson, Arizona.
Tree Trimming in Tucson, Arizona

Tree Trimming in Tucson, Arizona is completed by the #1 Tree Service.
Stump Removal in Tucson, Arizona

Tree Removal Service in Tucson, Arizona does Stump Removal making them a complete Tree Service.
Tucson, Arizona has Tree Stump Removal and stump grinding.

Tree Removal Service is a full service Tree Service in Tucson, Arizona.
Tree Removal in Tucson, Arizona.

Tree Trimming done right by Tree Service Tucson.
Tree Planting in Tucson, Arizona

Tree Planting in Tucson, Arizona is done best by the Tree Arborist at Tree Removal Service.
Tree Service Landscaping in Tucson, Arizona.

Tree Planting and Tree Trimming Done right in Tucson, Arizona by Tree Removal Service Tucson.
Tree Service in Tucson, Arizona.

All Tree Removal in Tucson, Arizona should be done by our leading Tree Trimming Service.
Tree Removal Service in Tucson, Arizona.

Tree Service for Tucson, Arizona by the Tree Planting Expert's Tree Removal Service in Tucson, Arizona.
0

/