Shopping Cart
Your Cart is Empty
There was an error with PayPal
Click here to try again
Thank you for your business!
You should be receiving an order confirmation from Paypal shortly.
Exit Shopping Cart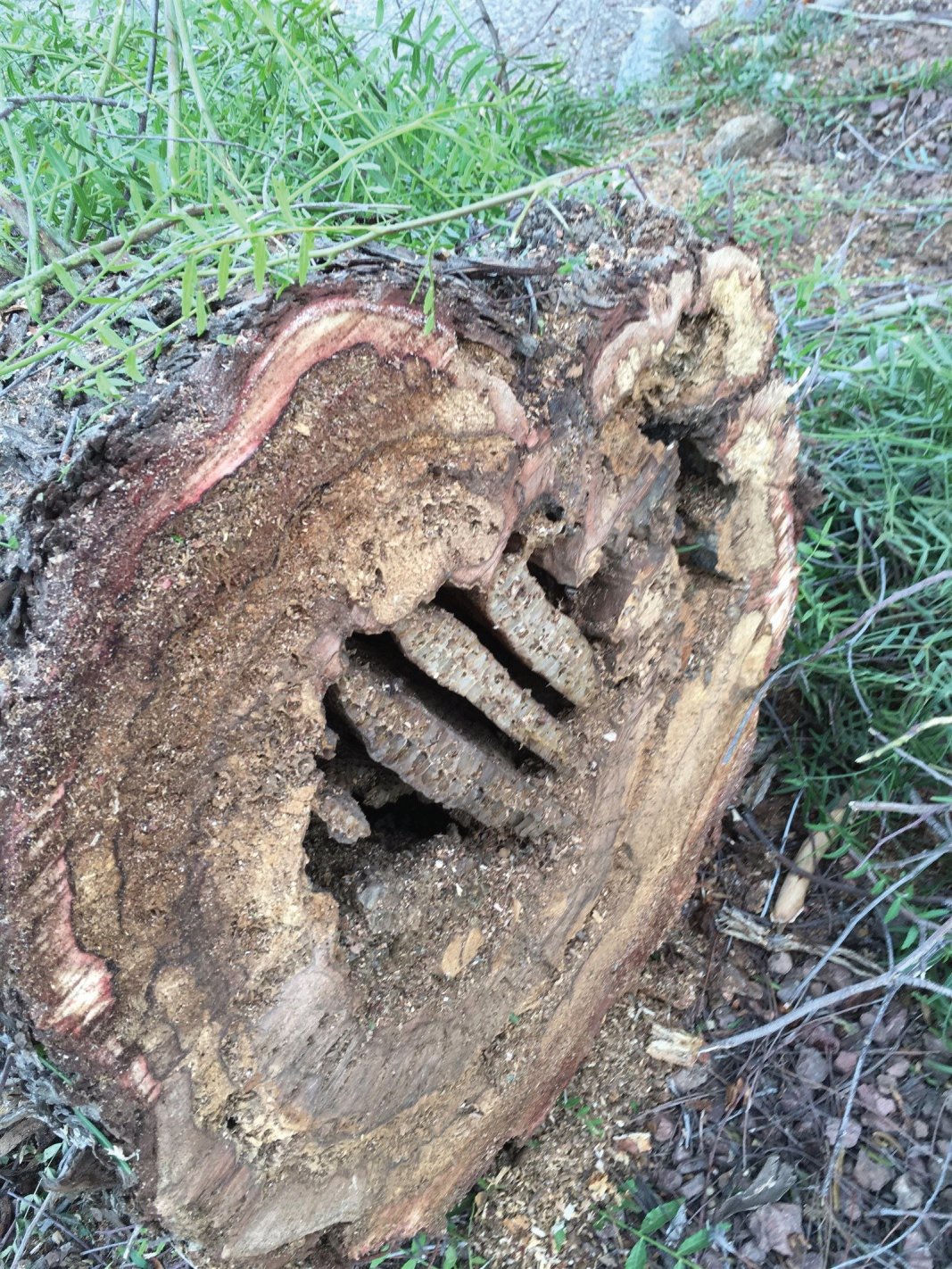 In Tucson, Arizona Tree Care is full of Adventure. In other parts of the country it is often mundane and full of scientific facts and routine low risk trimming. 
Here at Chris and Amanda's Tree Service we have come to expect anything. If you have been reading our "Tales from the Tree Cutting Crypt" blogs, it will not surprise you that we have ran into a bee or two.
Back in 2014 after a long summer of Tree Cutting we had a routine job that turned into anything but. A half dead California Pepper Tree Removal was supposed to be routine and as a side note the customer told us that they had seen some bee's around the tree but had done their due diligence and had a Bee Removal Company out and everything was fine. I didn't think much of it as we have ran into the occasional small colonies of bee's in the past and find them to be mostly friendly. In addition after inspecting the tree we found no hive to be seen.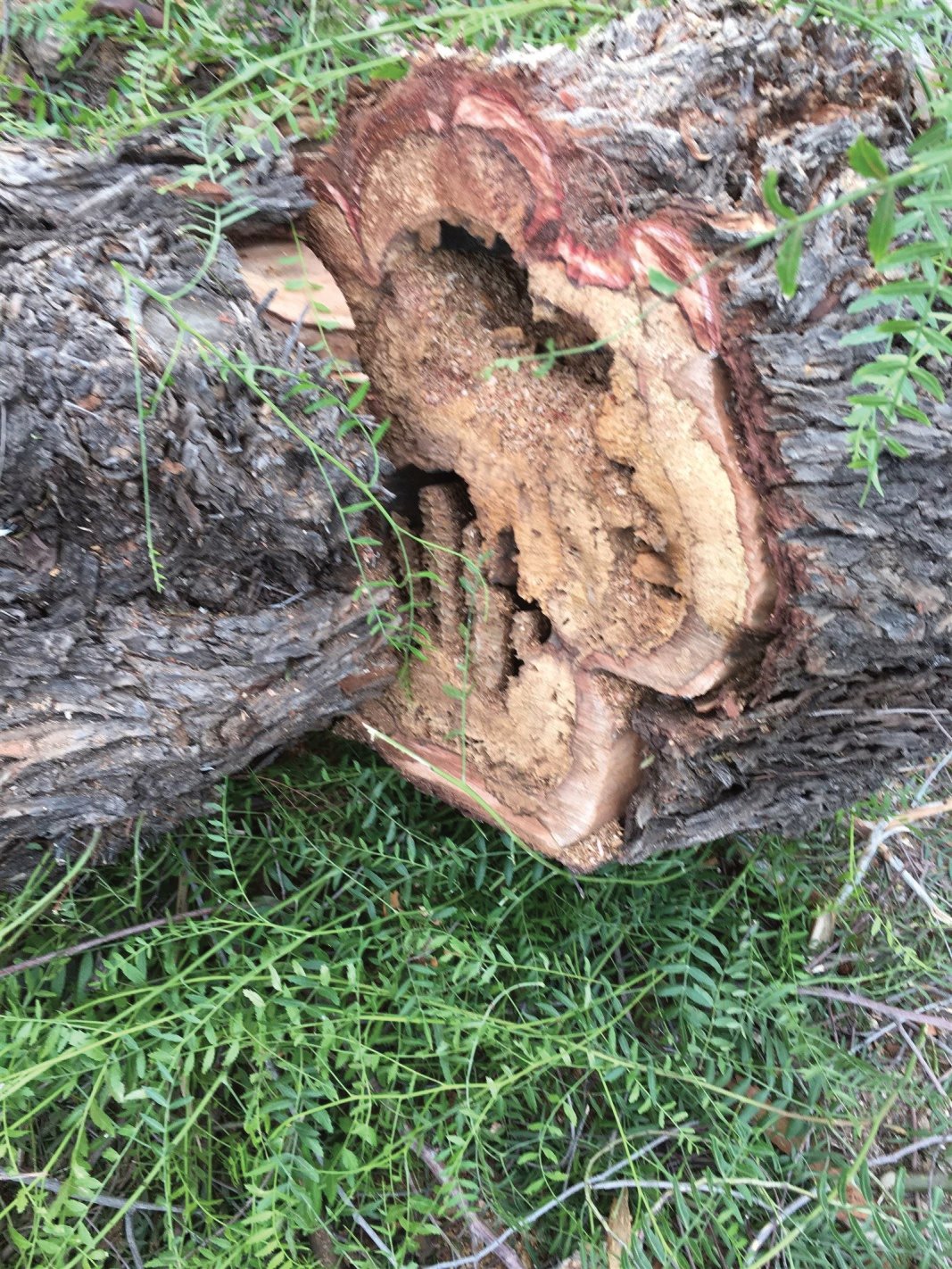 So we got to cutting and removed the few shoots that remained on this old tree stump. Once those were cut we tied a rope and felled the trunk. BOOM! it hit the ground and it was almost like a cloud of bees started to fly from the top of the trunk. Wow! I thought, there still must be a few bee's left so I started cutting logs as quick as I could. With a few swift cuts and a sharp chain the trunk was sectioned and we stepped back to discuss the game plan. Around this same time Paul, one of our guys, said "ouch!" and put his hand on his forehead. "that bee just ran right into my head!" He said. "get in the Truck!" I told the crew as we all scrambled to get the doors shut. That thump in the head was a warning sign from the colony saying we will attack if you don't leave.
Now at this point the average bear would've called it quits but the tree was laying in their drive and calling it quits would mean the customer would see up to 1,000$ for leave their pocket with a bee removal company. Priding ourselves as the Best Tree Removal in Tucson we decided to give it a go. Carefully we walked close to the logs, picking one up and throwing it in the trailer. With in a minute or two the Kamikaze Bee's would thump one of us in the head and we would scurry back to the truck. This process repeated itself for hours until the tree was load. With the moving of the logs the bee's seem to disperse and towards the end there was only a few stragglers left.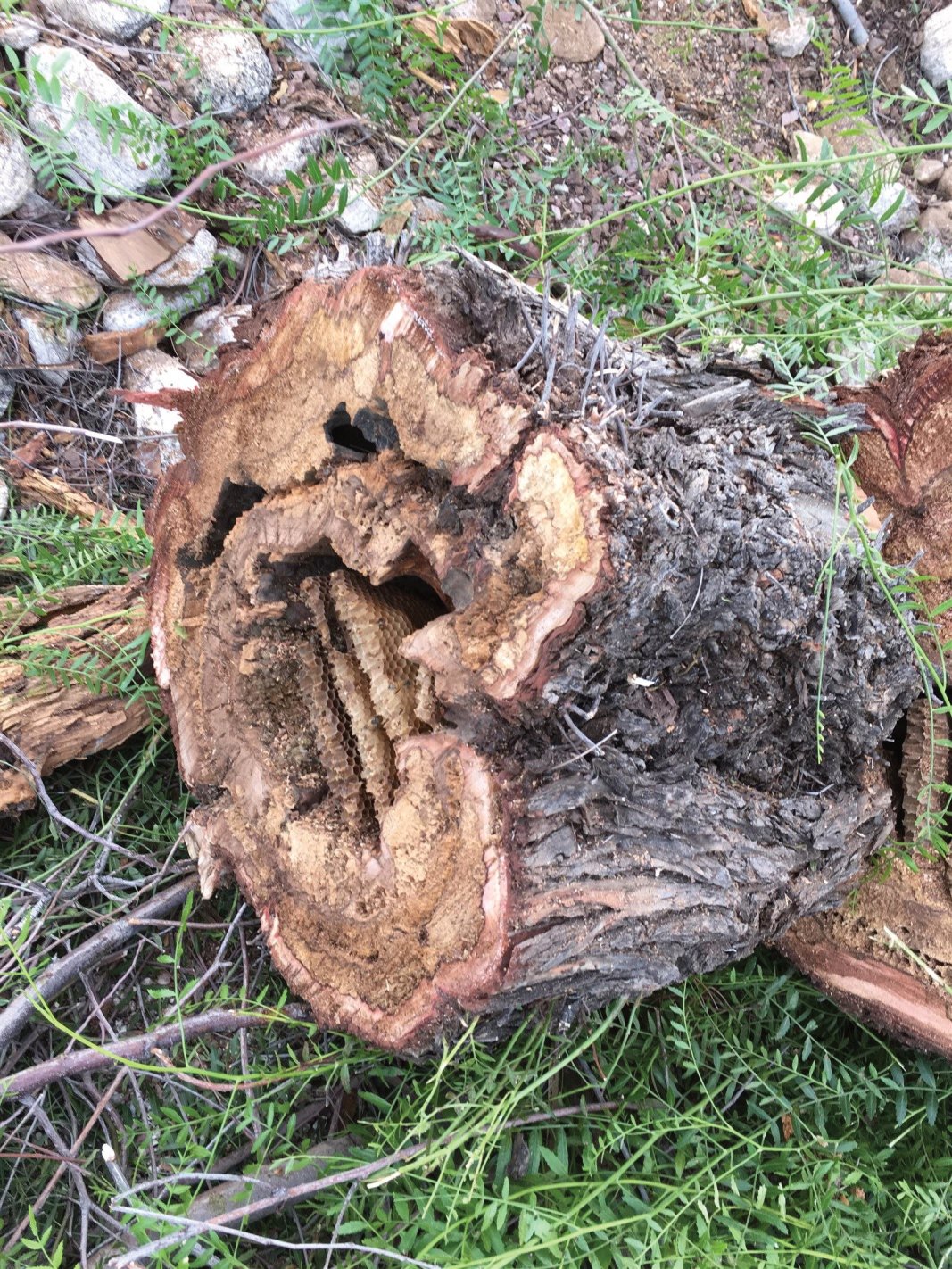 Chris and Amanda's Tree Service prides itself in being a recycling, environmentally friendly Tree Service In Tucson and we felt a sense of pride having completed the work. One of our guys ventured to the old logs and pulled a piece of honeycomb and we all ate some. Wow it was great! I cant tell you how it melted in our mouths and had a little bit of flaky texture.
It took us no time at all to pull all the honeycombs out and put it into bags splitting the prize between all of us. The memory of this day makes me think fondly on bee's and the next time you are Tree Trimming in Tucson and see a bee just know that they are in the process of storing a tasty treat in Tucson.
For the record, we do not recommend going anywhere near a bee hive and we have had dozens of jobs for Tree Removal in Tucson that we have had to reschedule due to bee's. Properly trained staff should be used for Africanized Bee's and we have used bee suits in the past when needed. But with that said, you can hire us with confidence knowing that we have seen it all at Chris and Amanda's Tree Service when it comes to Tree Trimming in Tucson, Arizona.
Thank you for stopping in to Chris and Amanda's Tree Service! We promise to make it worth your while. 
When is comes to Tree Service Tucson is behind the times in many ways. Our Tree Care Companies are generally under trained when compared with the rest of the country. Part of this is due to the small market of the Old Pueblo and the other part is due to 3 unique environmental factors that make it impossible to read a book about Tree Care in Tucson. Our rocky soil, drought conditions and freeze conditions make Tucson a unique place that requires a special set of rules for Tucson Tree's. 
Chris and Amanda have stumbled on some simple truths that do not line up with conventional Tree Service thinking and we have documented them in video format on our YouTube Channel. Our hope is that our video library will be a free resource that helps Tucson for years to come and raise the Tree IQ for Tree Owners and Tree Workers alike. 
Tree Service in Tucson will never be the same. To help with our mission we are offering a 10% off coupon if you subscribe, Give us Thumbs up and watch our video's. You can start with the one below that will get you well on your way to 10% off. This coupon can not be combined with other offers but it can be saved for future use. In other words, Subscribe, Thumbs Up and watch videos now and then if you should ever need tree service in the future, the coupon is there for you to use.
Thanks for all your support and we will see you next time!
Sincerely,
Chris and Amanda
Tucson is unique environment full of Rock, Drought and Freeze conditions. The combination of all of those leads to a new set of rules needing to be written. You see, the Tree Care provided in other parts of the country does not apply to Tucson. 
Chris and Amanda's Tree Service has confronted the text books and on the job training coming out the other side better for it. Water the drip line? not in Tucson. Plant in full sun? not in Tucson. These are a few of the differences we face in the Old Pueblo. So, with that said, shouldn't the Tree Planting Tucson does be different too? We say yes.
For years Tucson has been plagued by nurseries that push and inventory of Pine Tree's, Eucalyptus, Willow Acacia, Sumac's and more. Wouldn't it be nice if there was a sound voice advising what are good tree's to plant in Tucson? Well that day is here. Chris and Amanda's Tree Service is offering video's with information covering a wide spectrum of Tree Service secrets normally paid for. Today we cover Tree Planting Tucson.
We have done 2 video's on the subject and I will give you the cliff notes versions. At the top of the list of good tree's to plant in Tucson is the Velvet Mesquite. Great slow growing hard wood tree that is drought tolerant and has artistic branches. Don't cut those lower branches off, they are needed. (watch our video how to trim a tree) Second on our list is the Palo Brea. This is a wide palo verde with artistic branches and very low trimming needs. (we have a video on the 5 palo verde's of Tucson so you can tell them all apart) Third on our list is the little known Twisted Acacia. What a unique tree! Wouldn't Tucson be better if this tree was planted instead of the Sweet Acacia? Who's idea was the Sweet Acacia? Fourth on our list is the Mexican Sycamore. This tree is not for the faint of heart as it will need some watering. Deciduous it drops its leaves and is very easy to clean up because the leaves re the size of dinner plates! This is a great shade tree for those summer months. I have grown one from 10 to 25 feet in 1 year!
This is our top 4. 
We did a second video on unique tree's to plant in Tucson and you will have to watch that one. I will post it along with these words. Remember to give us a THUMBS UP and we answer all questions for advice when you COMMENT on our YouTube videos. 
We hope this blog was helpful with Tree Planting Tucson and gave you some good Tree's to plant in Tucson. Thanks for all your Love and we will see you next time!
Sincerely,
Chris and Amanda
/